Who needs dumbbells when you've got a baby?
Mums are full of excuses when it comes to exercise – I should know, I'm a mum of two! Which means I've got double the excuses!
Whether you're a career mum or a stay at home mum, your life is filled with so many responsibilities that every day feels like a flipping ultra-marathon!
You know that exercise helps you lose weight; you know it helps you sleep better and you know it helps you feel less stressed – but OMG it's such a struggle to fit in a workout!
Be a No Excuses mum!
Although you might think you have really good excuses for not working out, there ARE ways you can sneak in a workout. My personal favourite? Include your kids!
My baby is my barbell
Newsflash – you don't need a babysitter to get a great workout! I launched my BabyFit class after my first pregnancy inspired me to mix burpees with babies, as I soon found out how hard it was to find the time to exercise, especially when you're sleep deprived and have no access to childcare. At BabyFit a typical workout involves squats, lunges, core-based exercises and posture work – basically all moves you can do at home as well, all you need is your own set of weights – your baby! And if it's progressive strength programme you're after then look no further! Just as you would increase the weight of your dumbbells as you got stronger, your little baby barbell just keeps on getting heavier, meaning you get to up the intensity of your workout with every growth spurt. How amazing is that? And if your kids are older then outdoor activities are a no-brainer. Take them to the park and smash out a few tricep dips or step-ups on a nearby park bench. And if it's raining just put on some music and dance!
Baby steps lead to big results
Great, so we've established we don't really need a gym membership as we already have access to a great workout right in the comfort of our own home, with our kids. So when are we meant to find the time for this? 'I don't have time' is one of the excuses I hear most often. Well of course you don't have time, if you're trying to squeeze a 60-minute workout routine into your day and then treat yourself to a shower afterwards! It's great that you're ambitious, but take it from a fellow muscle mum – you're setting yourself up to fail. Once you're a mum you have to find a whole new way of working out – I personally like to live in my gym kit 24/7, just in case I get the opportunity to throw in a few cheeky buggy lunges whilst I'm picking up some bits at Tesco (yes I'm the crazy lady in aisle 7), or rep out a few spontaneous plank rows with a 30 pound toddler on my back, who's more than happy for me to play 'horsey'. Gone are the days of continuous workouts – it's all about squeezing in fitness when you can, making the most of the little opportunities that come up and making them work for you. Something is better than nothing.
Never feel guilty!
Remember mamas – making time for yourself is something you should NEVER feel guilty about. Sneak in a workout and I promise you'll feel like supermum – even when you're tired, exercise gives you a burst of energy that can give you the stamina you need to get through the day. When we make time for our own mental and physical wellbeing we are better mothers because of it. So stop seeing your kids as an excuse not to work out, and start seeing them as the reason why you work out.
Like Celebrity Circuits on Facebook
Visit Sarah's Personal Training Page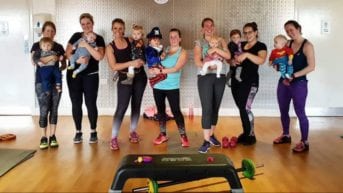 Sarah Swainsbury (Celebrity Circuits)
Meet Personal Trainer Sarah Swainsbury who offers training aimed at women of all ages and abilities.
Read more